Burner design
Stratoflame® is completely designed in high quality stainless steel in order to be use in every kind of process air
conditions (upstream air up to 600 °C). Combustion air terminals has a conical geometry with solid angle hole
to create a controlled swirl of the air.
Gas nozzles are designed with special geometry in order minimized the effect of vortex shedding and avoid hot
spot formation on gun surface at each power ratio.
Each swirling cone has special design in order to provide cross ignition.
Stratoflame® can be equipped with optional kit :
• Special deflector to be installed on cone outlet
• GPL nozzles
• Downstream stabilizer for process air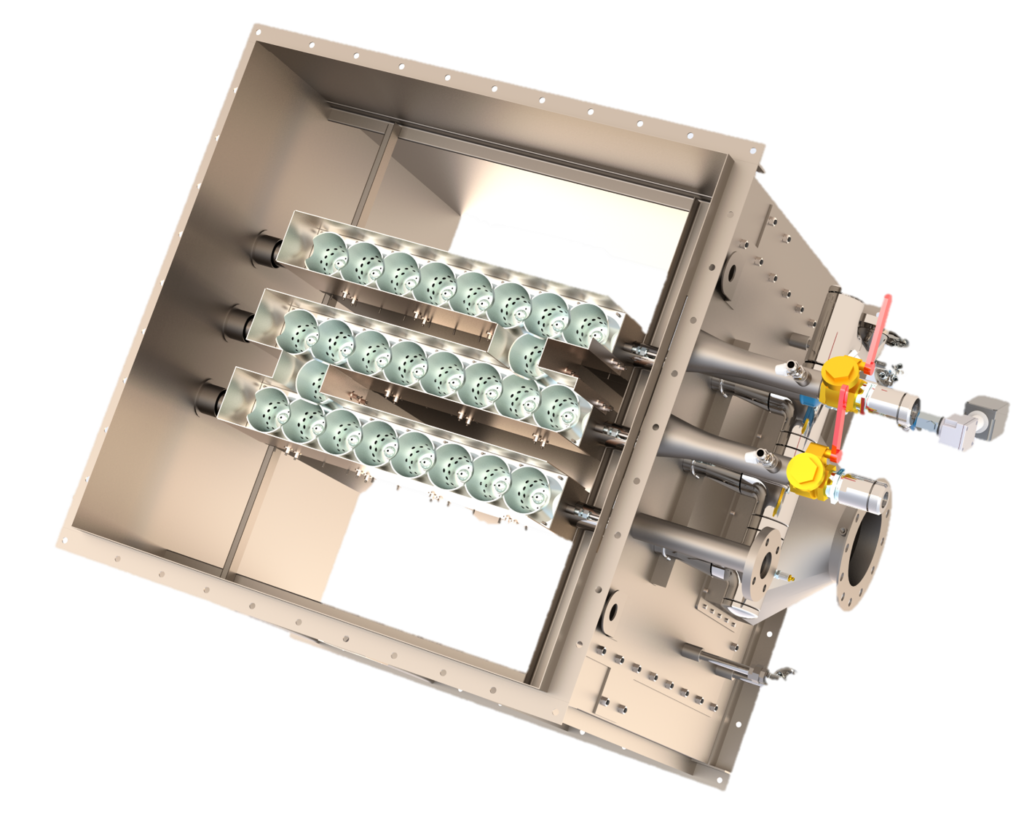 Operating range
Stratoflame® has modular design. The burner is composed by single module of 120kW@combustion air 20°C
with a turndown from nominal capacity of 10:1. The burner is fired with an excess air percentage of 20% to 30%
at maximum potentiality. The modular design of the Stratoflame® provides the flexibility to create a wide range
of burner matrix configurations. Stratoflame® is able to work with combustion air temperature up to 300°C.
Consider also that Stratoflame® burners are available as packaged units including valve trains, combustion air
blowers, flame supervision and controls.
All inputs based on standard conditions; 1 atmosphere, 21°C.
• All inputs based upon net calorific values (LHV).
• Mevas reserves the right to change the construction and/or configuration of our products at any time
without being obliged to adjust earlier supplies accordingly.
• Maximum power is referred to combustion air temperature on standard condition, contact Mevas for
burner sizing and recommendations for preheated air over 300° C.
Testing and validation
All combustion equipment design by Mevas is validated through CFD analisys (thermofluid + chemical )
supported by our workshop test bench that allows us to test following equipments:
• Stratoflame® burner
• Optivortek® burner
• Corner combustion chamber (ducts+burner)